Conflict Management (in English)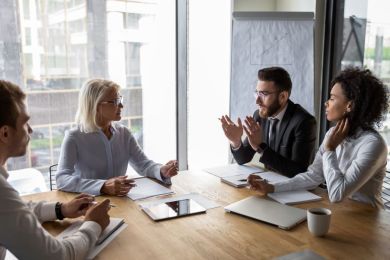 Identify conflicts and solve them effectively – online seminar
In this live-online-seminar, you will learn how to identify conflicts at an early stage and find suitable solutions. We will teach you strategies on how to manage conflict discussions in a confident and solution-oriented way. After the online course, you will be able to prevent workplace conflicts in the long term and ensure a positive team spirit.
Strategies for conflict management and mediation & de-escalation techniques for successful conflict resolution
Wherever people interact and work together, conflicts arise. The most important aspect is how to deal with them: By conducting conversations in a professional way, conflicts can be managed confidently in order to add to a constructive working environment. Conflict awareness and conflict analysis also help you to find effective solutions faster in difficult situations, which contribute to the success of the company or the project.
Conflict Management (in English)
Genaue Kurstage und Uhrzeiten